Services:
- Sealcoating
- HOT Crack Repair
- Joint Repair
- Oil Stain Treatments
- Power Cleaning
- Patching
- Paving
- New Asphalt Lot replacement
Our Process:
Power clean the entire asphalt surface. Debris is swept and backpack blowers are used to clear asphalt surface from any remaining dust and debris. If necessary, all sides of asphalt surface are edged to remove grass/weeds so sealant can be applied all the way to the edge.
Once the asphalt surface is clean, a high quality 400 Degree (RTU) hot rubber filler is used to fill cracks in the asphalt. This seals the cracks and prevents them from getting any larger and causing more asphalt erosion.
An oil spot treatment solution is applied where needed. This allows the sealcoat emulsion to bind to the asphalt. If this is not applied to oil spots the Sealcoat may not adhere to the surface properly and could result in flaking or peeling.
A detailing brush is used around all concrete aprons, sidewalks, etc. to ensure that the sealcoat does not get onto anything other than the asphalt surface.
Sealcoat is applied via brush or spray. Sometimes multiple layers are requested or required.
After the sealcoating application has dried, lines and signage are then applied. Bringing back the parking lot to its originally layout.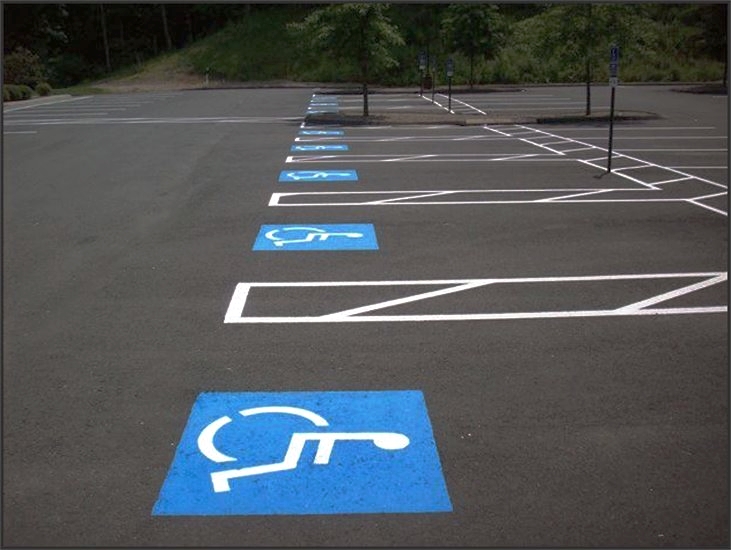 Below: Before and After of a commercial parking lot. Customers and employees appreciate a professionally maintained parking lot. Sealcoating saves thousands of dollars over the life of the lot by preventing damage and staying on top of proper maintenance.
Why Sealcoat???
Seals Out Water. Once water enters the asphalt it slowly destroys it by expanding and contracting during freeze / thaw cycles.
Weather, wear, and tear eventually loosens the top layer of asphalt leading to erosion and exposing more asphalt. The sealcoating arrests the erosion of the fine particles and a small amount of particles are added in the sealcoating to replenish the asphalt surface.
Prevents Gas and Oil Damage. The high quality asphalt sealant and rubberized additive used is formulated to reduce gas and oil damage much better than bare asphalt.
Prevents Oxidation. Sealcoating your parking lot blocks the sun's ultraviolet rays that harden and dry out asphalt surfaces accelerating cracking and erosion.
Makes your Driveway Easier to Maintain. The smooth and level surface of a properly sealed driveway is easier to sweep. Sealcoating also makes it easier to remove leaves and snow. The dark black color actually absorbs the suns rays better helping melt and dry that last bit of snow.
Improves the appearance of your Business. Sealcoating your driveway restores the rich slate black color of your parking lot.
Left: Finished Line/signage application. We maintain the layout of the lot and make sure the painting is vibrant in color with clean cut lines.